BlogHer'14 was the third of four conferences on my calendar for this year – all out-of-town jaunts that had the potential to put my weight loss goals in jeopardy. For each conference, I set a very simple goal: net neutral. What that means is that I wanted to come home and have my weekly weigh-in be no worse than where I was at the prior weigh-in. I weigh myself weekly, first thing in the morning every Sunday, and I track my progress in MyFitnessPal, so I have a way to see how I'm doing week over week. Little things, like the usual monthly hormonal fluctuations, have played havoc here and there; but, for the most part, I've been moving in the right direction.
Conferences can screw with all of that.
First off, my regular schedule is completely disrupted. I'm not sleeping nearly as well, and my usual level of activity often turns into the sloth-like drudging from salon to ballroom and elevator to hotel room.
Second, the food is often far saltier and fattier than what I cook at home, and the quantity is so large that it's hard to track calories. There's food everywhere and snacks tend to be abundant, so it's tricky trying not to eat all day long.
For the first two conferences I attended this year, I either lost weight or came back net neutral. When I came home from BlogHer'14, I had actually lost weight. It seems improbable – or maybe even impossible – but it definitely happened. It's not HUGE weight loss, but that's not the point. In general, weight loss of 1-2 lbs per week is safest, and I kept pace with that.
Want to know how I managed to do it? It's a simple formula: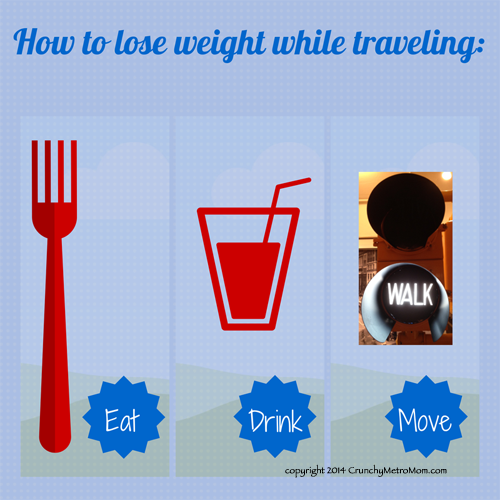 Really, all you have to do is Eat, Drink, and Move. Seem a bit crazy? Here's how it works:
Eat:
Travel presents some seriously bad food options. You eat when you can, and the choices aren't always the healthiest things out there. That doesn't mean you should only ever eat salads – but don't mainline bacon cheeseburgers and chili-cheese fries, either. Balance out your protein and carbs and try to eat at least one healthy meal per day. Most importantly, listen to your body: if you feel sick, like you've eaten too much, PUT DOWN THE FOOD AND BACK AWAY SLOWLY. I know, I know, sometimes it's just so good that you don't want to leave anything behind. But really, if you find yourself consistently feeling ill from the amount of food you ate, you're probably overdoing it. I still sampled local delicacies while in San Jose – such as the Kouign Amann at Philz Coffee (DIVINE PASTRY OF THE GODS) – but I didn't have one every day and at every meal. Pacing and moderation really saved me from feeling like I was going overboard.
Drink:
One of the funny things about BlogHer'14 was the distinct scarcity of water. Having IBS, I don't drink a ton of alcohol or caffeine – dehydration can trigger illness and caffeine is definitely one of my triggers – so I rely heavily on water as my go-to drink. If you're hydrated, you tend to overeat less; I've seen this during my regular day, too, that I may feel hungry when in fact I'm just thirsty. That's not to say that I didn't have any alcohol; I had several glasses of tasty eppa Sangria at various parties, as well as a mimosa at the opening night Expo party that had only a passing flirtation with orange juice. At one point, I had a water bottle stashed in my conference tote and just walked around with it, so even if I never found a water cooler, I had a way to keep myself covered. Whenever water was offered, I took some; and when it was only for sale, I bought a bottle and drank it right down.
Move:
Knowing that my conference days would be jam-packed with meetings, where the majority of my exercise would be going from floor to floor on escalators and elevators, I had to find some way to counteract the slothitude. For the longer of my two New York-based conferences, as well as for BlogHer'14, I brought workout clothes and my sneakers, and I got myself up at the crack of dawn on two mornings to hit the hotel gym's treadmill. Even if it was a small workout (say, 45 mins), it was better than nothing at all. I really had no idea how much movement I would get on any given day, so making time to move was crucial. Whenever anyone else was up for a walk around town, I went for it and was willing to walk for miles.
On the last night of BlogHer'14, McDonalds sponsored an EPIC closing party that featured more of that free-flowing eppa Sangria, a selection of McDonalds Happy Meals, and music provided first by DJ Rashida and later by Rev Run of Run-DMC. I don't remember exactly what song DJ Rashida put on that got me to drop my Happy Meal mid-chew, but once I got to the dance floor, I didn't leave it until Rev Run left the stage a good 90 minutes later. I DANCED MY BUTT OFF. Rev Run had us partying so hard to such an amazing selection of tunes that if I gained any calories from my cheeseburger and fries, they all sweated right off in his hour-long set. Take your chances to move when you can, really. I did.
So, what's the ultimate lesson?
These tips I'm suggesting, things that worked for me, aren't so dramatic that they require that you starve, abstain, or run a marathon every time you travel. And none of these are things that you shouldn't be doing any other day of the week if you're in the same boat I'm in as far as weight loss goes. What they do show, however, is that you can still have an insanely good time – eating Happy Meals, drinking sangria, eating pastries – and still lose weight. Moderation, Hydration, and Movement are the keys to having a fun trip where you can bring home the memories but not the extra pounds. I know for me, that's yet another highlight of my time at BlogHer that I won't soon forget.